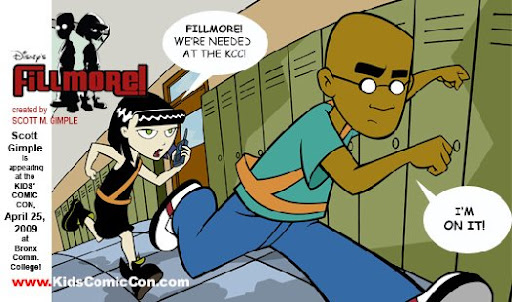 THE KIDS COMIC CON 2009 IS ALMOST HERE!

Hey kids (and parents! And teachers! And comic fans! And, yeah, you at the computer, too!), the KIDS COMIC CON 2009 is right around the corner! Most exciting is that's there are more things for kids to do than at last year's con!



Test ZOINKS! KIDS COMIC CON Special Guests Make Graphic Novel Debuts!



As if we weren't already bursting with fun, this year the KCC welcomes some new guests, among them Neil Numberman and Flora Robinson! Both artists will be leading fun workshops, teaching kids how to create wacky cartoon characters and stories. But our two talents will be doing something else, too – promoting their new graphic novels.

Neil will be signing his new book, Joey Fly Private Eye (from Henry Holt Books for Young Readers). And Flora's new book, The 3-2-3 Detective Agency (published by Amulet, a division of Henry Abrams) will be making it's debut at the KIDS' COMIC CON. Everybody's invited to come meet these two artists and over 30 more at this year's KIDS COMIC CON!

The KIDS COMIC CON 2009 is set for April 25th at Bronx Community College (181st Street & University Avenue, Bronx, NY 10453). And yep, even though the economy is struggling like Superman surrounded by Kryptonite, the KIDS COMIC CON 2009 is still free for children 17 and under (and hey, Mom and Dad, its just $5 for you — making the KIDS COMIC CON one of the best entertainment values around).

"Our primary goals at the KIDS COMIC CON are to promote reading and creativity in kids' lives," said Alex Simmons, KCC founder. "Now more than ever it is imperative that we supply kids with a continuous flow of positive ideas, skills, and outlets for their thinking as well as self-esteem building activities, like creating from their own imaginations. That's what we do here, and it is all fun."

~~~

Thank you Alex Simmons for the information!
For more information please visit the Kids Comic Con website.